Hello Stamping Friends and welcome to the Paper Pumpkin Pop Up Blog Hop! We are all fans of this monthly crafting kit and want to share with you our enthusiasm for this box of fun and creativity. The beauty of the Paper Pumpkin kit is that you can follow the directions provided in the kit to make the projects as they were designed, or use the supplies as a starting point and let your creativity run wild. On this hop we will be sharing lots of ideas with you on how to use the July Paper Pumpkin kit:Summer nights.
So many of you know that I am still in the hills of Tennessee, its been pretty nice weather so far and really fun watching the fire flies in the early evening. This months kit was timely for that. One of my sisters best friends was here last week helping and she loved them too. We wanted to send her a little gift so I turned one of the tea light bags and post cards from the kit into cute bag!
Have you seen the u-tube for the kit yet? If not here it is (you may have to click on The Flying Stamper at the top of this post if your receiving this post via e-mail).
At the time of this post there are refill kits available to order, contact your demonstrator to get yourself one! This kit also has an add-on kit that is available for purchase. Refill kit: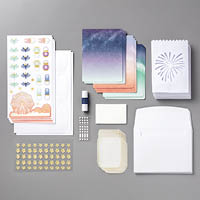 Thanks so much for stopping by now hop on over to my friend Charmaine's and see what fun alternate she has created for us this month!
The Flying Stamper
When placing your orders online if you add this hostess code I will mail you a sheet of dimensionals with your thank you card! If your order is $150.00 or more before tax/shipping you're entitled to the Stampin' Rewards, so please don't add the hostess code in that instance! Thank you!